Anu Music Profile
Anu music cultural academy started in 1995, in Film Nagar, Hyderabad by Smt. Poornima. Her father late Sri vangara venkata krishna rao a violin master, writer, music director and director. Her Grandfather Late Sri Vangara Bala Govardhan Rao, a Harikatha Bhagavathaar. He was awarded "Swarna Gandapenderam" from former Prime Minister Indira Gandhi.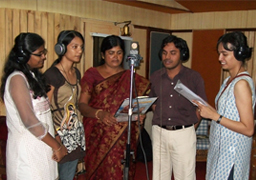 She has learnt music and violin from her father and completed her course in Telugu university. She worked in reputed schools as a music teacher in Hyderabad. There after she started Anu Music Cultural Academy in 1995 in film nagar.
She taught for no of students with love and dedication. Many celebrities and their kids learned music with her. She taught many govt schools freely to educate the students with patriotic songs. She encouraged many talented people who can't afford. She also helps children to speak fluently who are suffering from speech problems.
Anu Music Cultural Academy is registered under Society Registration Act. To serve the society with various cultural and social cause oriented programs.
Music connects souls. More than just music research has found that learning music facilitates learning other subjects and enhances skills that children inevitably use in other areas. ...Language Development. Increased IQ, The Brain Works Harder, Spatial-Temporal Skills, Improved Test Scores, concentration, mental peace, spiritual thinking and reduces stress.